Cheesy Frittata - South Beach
PaulaG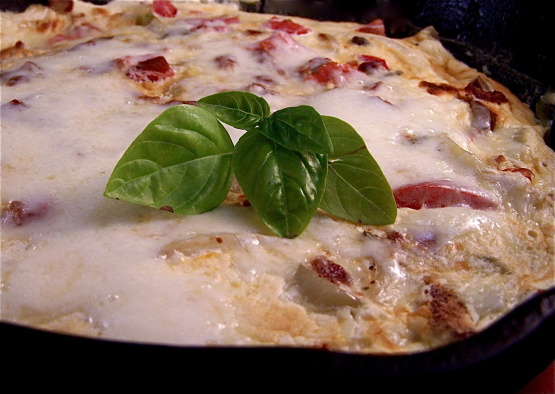 This recipe is based on the recipe provided in the first South Beach Diet book. I modified it to suit our tastes. It's appropriate for any phase of the diet.

I make several different breakfast frittata's and this one is different (in a good way) & tasty. I increased the bacon abit & used olive oil for the margarine. Threw in some green onions, jalapeno & a couple sliced fresh mushrooms. I cut back the tomatoes and glad I did because I think it would have overpowered the flavours for us otherwise. Nice change to our normal breakfast recipes, thanks for sharing.
Cook turkey bacon per directions on package until crisp. Set aside. Crumble when cool.
Coat an ovenproof 10" skillet with cooking spray. Melt the spread in the skillet. Add the onion, bell pepper, and zucchini, and saute over medium-low heat until the vegetables are tender, 2 - 3 minutes.
Add the tomatoes, basil, and black pepper to the skillet and stir to combine. Cook until the flavors are blended, 2 - 3 minutes, and remove from the heat.
Preheat the broiler.
In a blender, combine the egg substitute, cottage cheese, and milk and process until smooth.
Pour the egg mixture over the vegetables and return to the heat source. Sprinkle the crumbled turkey bacon over the top. Cover and cook on medium-low heat until the bottom is set and the top is still slightly wet.
Transfer the skillet to the broiler and broil until the top is set - 2-3 minutes.
Sprinkle with the cheese and broil until the cheese melts.
Serve while hot.