pines506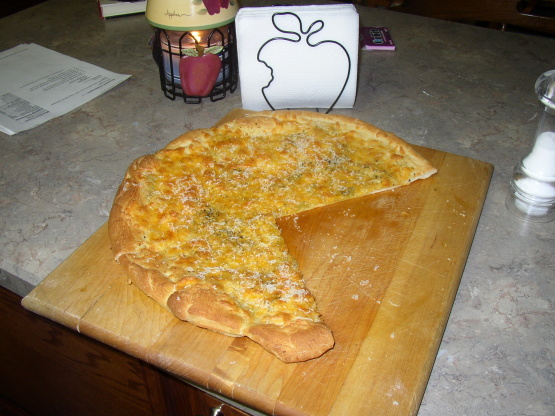 Adapted from an old Quick Cooking. A great bread to serve with a soup meal. I have also used the thin crust boboli with success. Leave off the cheddar and after baking top with fresh grated romano and you can almost image you are eating Chicago Oven Grinders Mediterranean Bread!

I served this with Carla Cayen's fat free fries and Shari2's parmesan chicken all 3 were excellent. I used low fat cheese.
Pat dough onto the bottom and up the sides of a greased 14-inch pizza pan or 15 x 10 x 1 inch jelly roll pan.
Brush olive oil over bread.
Sprinkle with paprika, basil and garlic.
Sprinkle with cheese.
Cover and let rise for 30 minutes.
Bake at 375 for 20-25 minutes or until golden.