Cheesy Eggplant (Aubergine) Pesto Stacks
manrat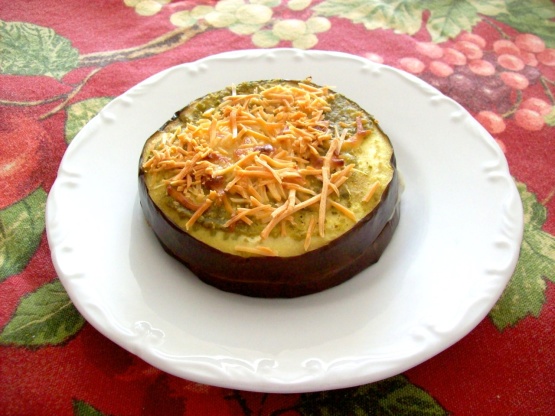 I found this recipe on the internet somewhere, but have tweaked it a bit. Eggplant is one of my favorite vegetables, but I haven't found all that many recipes where it is allowed to take center stage; it is usually buried under so many other ingredients and flavors. This recipe is also a nice way to use up left-over pesto. Preparation time is mainly standing time for the eggplant as it drains its bitter juices.

I have made all kinds of variations of this recipe, and they all turn out great. I have used pesto alone, tomato sauce alone, and both. I have layered the eggplant with tomatoes and zucchini, and put parmesan or feta in the stacks before topping with tomato sauce and parmesan. I serve this atop orzo pasta as a beautiful and filling vegetarian meal. Thanks for the great idea!
Pre-heat oven at 375°F, and oil a shallow baking pan.
Cut the eggplant crosswise into 12 1/3 inch thick slices, discarding the ends.
Arrange in one layer on paper towels.
Sprinkle both sides of slices evenly with salt and cover with another layer of paper towels.
Let eggplant stand 30 minutes.
Rinse salt off, and pat dry with paper toweling.
Arrange 4 eggplant slices in one layer in pan and spread each slice evenly with 1 teaspoon pesto.
Sprinkle 2 tablespoons mozzarella evenly over pesto on each slice.
Continue to layer remaining eggplant slices, pesto, and mozzarella in the same way.
Sprinkle 1 Tablespoon parmesan or romano evenly over each stack and bake in middle of oven until eggplant is tender, 20 to 25 minutes.