jpgull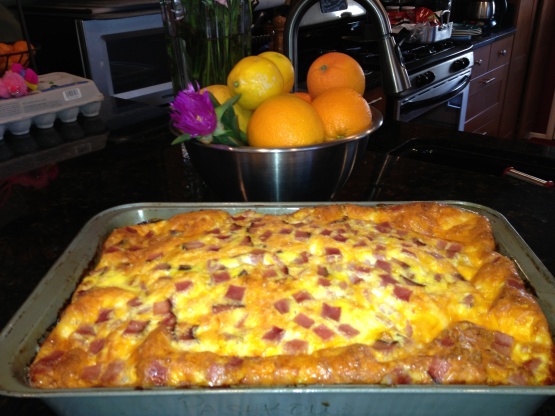 I make this for family brunches. Make it the night before and just bake it in the morning. Serve with coffeecake and fresh fruit. I've always received compliments when I serve this.
Toss Monterey Jack cheese with flour; place in bottom of greased 13 x 9-inch pan.
Top with Cheddar cheese.
Place chopped Canadian Bacon evenly over cheeses.
Beat eggs and milk in bowl and pour over the bacon.
Cover and chill overnight in refrigerator.
Remove from frig for 30 minutes before baking.
Bake, uncovered at 325 degrees for 40-45 minutes or until a knife inserted near center comes out clean.
Let stand for 5 minutes before cutting.
(Time does not reflect refrigeration time).