Cheesy Easy Cavatini * Venison Optional
Debber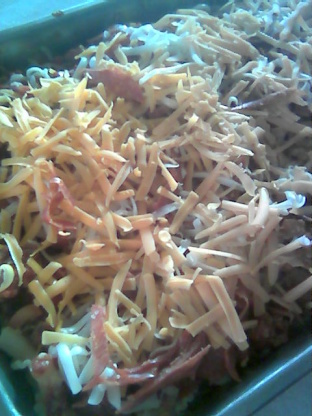 Loaded with cheese, sauce, meats, and pasta--probably on Heaven's menu, too! Great way to use that ground venison burger.

Top Review by Sally
Really different kind of dish. I used venison sausage (on the spicy side) and instead of the spaghetti sauce - green chili peppers I used tomatoes with chilies (just what I had to work with). I used all rotini pasta. Had some left overs but not for long. Reheated well and was gone. Thanks!
Boil pasta according to package instructions, drain and pour into 13x9 pan.
While pasta is cooking, brown the meats; sprinkle with herbs, mixing well. Remove from heat.
Mix spaghetti sauce (I use half home-made canned sauce and half from a store-can) with meat; add mushrooms and peppers; pour over pasta in pan.
Sprinkle on the grated cheeses.
Cover with foil or lid; bake for 30 minutes; remove foil and bake for 10-15 minutes more (crusty and bubbly).
VARIATION: Add sliced black olives.
VARIATION #2: Use leftover spaghetti-meat sauce.
VARIATION #3: Leave out the ground meats and ONLY use pepperoni -- completely different taste to it!