Peggy V.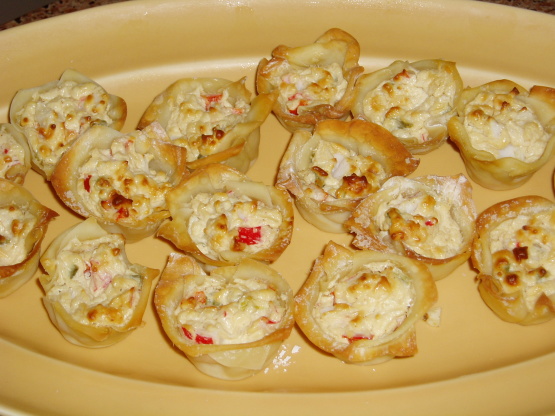 I love to entertain and always looking for yummy appetizers. These wonderful little tarts are compliments of Paula Deen. I prepared them ahead of time and warmed them in the oven before my guests arrived. Besides their scrumptious taste and slight kick they make a beautiful presentation. I also substituted the lump crab with imitation crab.

Really yummy! I did add a little salt & pepper to the mix. Also, I may need to find a different crust. My family didn't care for the edges of the wontons, as they got quite crispy during the baking.
Preheat oven to 350 degrees. Lightly spray 32 cups of a mini muffin pan with cooking spray. Place center of wonton wrappers in bottom of mini muffin cups, pressing edges of wrappers against sides of pan to form a cup. Spray edges of wonton wrappers with cooking spray.
In a medium bowl, combine cream cheese, and next 6 ingredients; beat with an electric mixer at low speed until smoooth. Fold in crabmeat, green onion, and red bell pepper. Spoon crab mixture evenly into prepared wonton cups. Bake 20-25 minutes, or until center are set and wonton is lightly browned.