Parsley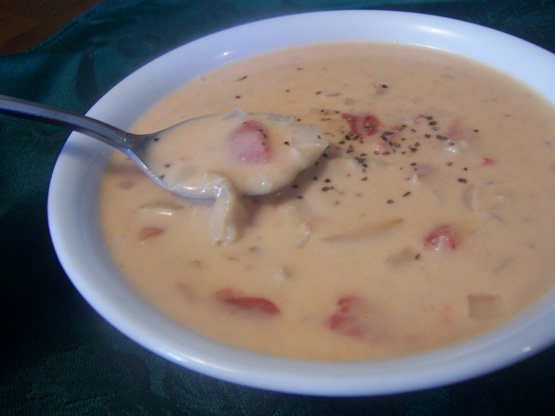 This is an easy recipe my Grandfather found on the back of a can years ago. He made it because it used up several things he had on hand. He became known for it in the family. It's not good for you and looks horrible but is nice to have at least once a year. It's better the next day. On first bite you might think it's strange but then as you eat it, it becomes addictive. Don't rate it until it's second day! **My Grandmother just told me that this was a recipe SHE found and adapted over the years and was only known as my Grandpa's recipe because he always said "Make me MY soup!". And when my Aunts and Uncles want the recipe they ask for Dad's soup recipe.**

This was good, however I made it a second time with homemade cheese sauce and I used thyme. I guess I'm just a prude when it comes to made from scratch meal. (especially if it involves cheese. I will not even touch processed cheese (someone probably fed me to much of it in nursery school or something. I did everything as directed the first time. After changing things a bit it was much more suitable to my taste (but we all have different pallets) DH liked it both ways.
In large pot melt cube of butter and saute bag of onions in it.
If using stewed tomatoes, dice them and add to pot.
Add rest of ingredients to pot. Stir.
Cook real slow over low heat for 3-4 hours.
This probably will work in a crockpot.