Cheesy Chive Blossom Omelet
Derf2440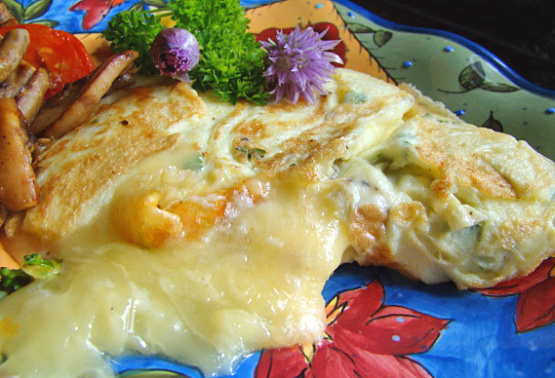 From Recipesource, this is a lovely way to use chive blossoms!

Lovely light omelet, enjoyed it very much. I snipped some chives into the mix with the blossoms, both chives and parsley fresh from the garden, delicious!! I used a little more Swiss than called for and it ran out when I cut it in half, but mmmm sooo good! thanks for posting, i will be making it again.
Whisk together eggs, water, salt, pepper and parsley.
Melt the butter in a 10" omelet pan(or skillet) just until butter sizzles not letting it brown.
Pour in egg mixture, shaking the pan quickly. With the flat side of a fork, stir eggs and move and tilt pan in a circular motion until eggs begin to set.
Sprinkle chive florets and cheese down the center; allow cheese to melt slightly, then fold omelet over and serve immediately.
Garnish with whole chive blossoms.