Cheesy Chicken Stuffed Shells
pines506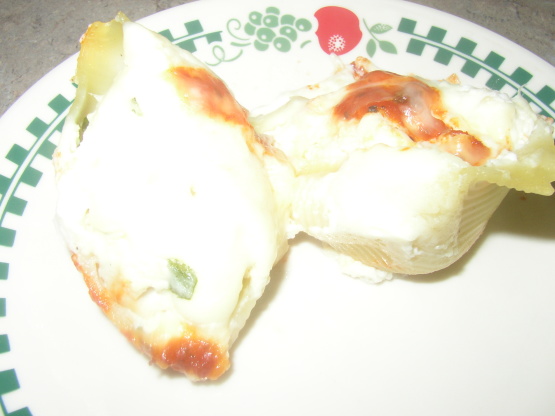 I came up with this trying to duplicate a frozen dinner from my childhood. This is my childrens' most requested dinner. I am sometimes inconsistent though and will add a can of either cream of chicken or cream of mushroom soup to the white sauce.

I made these for my co workers for one of my lunches. I made a couple changes. I added one box of chopped spinach (chopped and drained) to the chicken/cheese mixture. I also added a couple tsp of minced garlic to the mixture. It got rave reviews and several requests to make them again.
Preheat oven to 350.
Mix chopped chicken, egg, ricotta, parsley, 1 1/2 cups mozzarella and 1/2 cup parmesan in bowl and set aside.
Make white sauce: Melt butter in saucepan and add flour.
Cook a little, but don't let butter brown.
Add milk and salt, pepper and 1/2 cup parmesan cheese.
Cook and stir until thickened.
Spread half of the marinara sauce in bottom of pan.
Fill cooled shells with chicken mixture.
Pour white sauce over shells and drizzle rest of marinara over top.
Sprinkle remaining mozzarella over all.
Cover and bake about 40 minutes.
Uncover and bake another 15 minutes.