Cheesy Chicken Rice Casserole
CoffeeB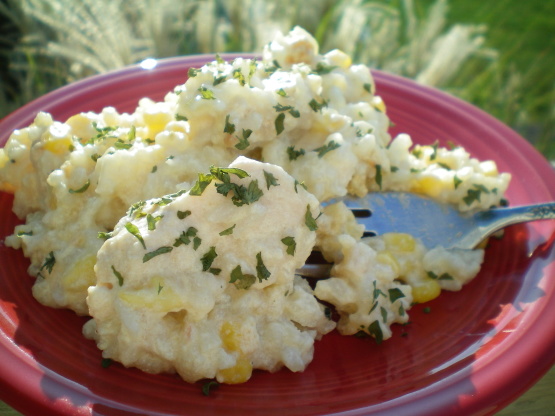 I just made this tonight, with barely anything in the cupboard. I served it up with some crescent rolls and use a bag of Uncle Ben's garlic butter rice. If you use regular rice, I suggest putting two tablespoons butter and some garlic powder in with your rice while it simmers. Feel free to add a bag of frozen veggies in. I normally don't buy them except for specific things, so I didn't have them.

The flavor in this rice dish is outstanding Michelle. I will say it took my casserole at least an hour to bake though and I had the chicken cut up in bite size chunks. I made this the night b/f and pulled it out of the refrigerator when I got home from work. Baked it the first 30 minutes with the foil on and then the last 30 with it off. It took everybit of an hour. It could have been because it had been in the fridge. I would caution about leaving the foil on for at least a bit of the bake time as otherwise it will dry out quickly. I used frozen corn for the veggie of choice. Thanks a bunch for a quick and easy put-together supper for me and the fam.~ Made for PhotoTag~
Preheat oven to 375°.
Cook rice as per directions on box or bag, more rice can be used but at least a cup.
Combine can of cream of chicken with whipping cream, mix well. Add chicken bullion cube.
Take chicken breasts and slice into inch, inch and a half strips (if you want to keep them whole, adjust cooking time).
Pour rice, cream of chicken mixture, and cheese into a medium sized casserole dish.
Bury chicken strips into mixture.
Add pepper to taste and veggies (optional).
Mix well and cover with tinfoil.
Check chicken to see if its done after about 40 minutes, depends on if you kept them whole or how big the strips are.