Cheesy Chicken and Artichoke Pizza
Prep 20 mins
Cook 10 mins

Heavenly!!! Almost like a hot artichoke dip in a pizza! From Betty Crocker.
Directions
Heat oven to 450º.
On cookie sheet, place pizza crust.
In medium bowl, mix mayonnaise, parmesan, artichokes, and garlic, if using.
Spread artichoke mixture over crust, leaving a 1 inch border.
Top with 1 cup of the cheese, the chicken and onions.
Top with remaining 1/2 cup cheese.
Bake 8 to 10 minutes or until cheese is melted and pizza is thoroughly heated.
Most Helpful
This really was very tasty and a nice departure from typical pizzas. I used the rectangular Pillsbury thin-crust pizza, pre baking it for few minutes before adding the toppings. It is almost like having dip on a pizza, but better. I used a box of Perdue Italian-style grilled chicken, which was perfect. I will definitely be making this again! Made for Culinary Quest 2014.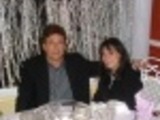 We cut the mayo in half and it was still too much. Other than that, this was pretty good. If we make it again we will use about 1/3 cup of mayo.
BF loves mayo and loved this pizza, but it was way too much mayo for me. Next time, I'd cut mayo in half and have a thinner spread. Other than that, it was a good recipe.