Cheesy Cheesy Cheesy " Macaroni and Cheese"
lets.eat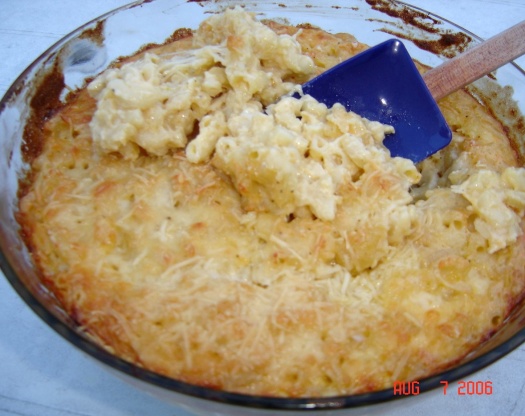 This is for my Son!!!! A great side but my son makes a meal out of it!

5 Star all the way!!! I didn't have frozen peas or cutty powder, so i left these out this time. If it is any better with them included, I don't know if I can stand it. I used a mix of cheddar, pepper jack and swiss cheese. It was great!!! I could easily eat just this for a meal.
Cook pasta aldente, drain and set aside.
Heat oven to (350F) degrees.
In a microwave proof dish melt butter and stir in flour.
Whisk in milk and half and half.
Microwave stirring every minute, until sauce begins to thicken about 5 minutes.
Season with salt, pepper, curry and the hot sauce.
Remove from heat and stir in remaining ingredients except for Parmesan cheese.
Pour in a buttered casserole pan.
Sprinkle top with Parmesan.
Bake for 30 minutes until bubbly and golden.