Kim127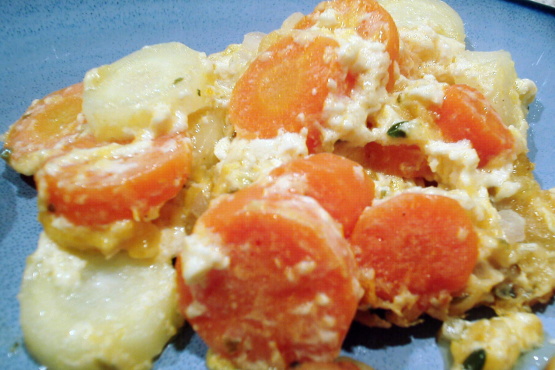 Great for a somewhat different carrot side dish. I love carrots and cheese together.

I liked this a lot, but it was very rich. Maybe that was because I used white chedder Cheese Nips. I also thought the sauce overpowered the carrots, so next time I may cut the sauce in half. Also, although I like tarragon, it too overpowered the carrots. Perhaps, half of that would be better too. With these modifications, I will probably make this often.
In a saucepan, cook sliced carrots in water until tender (about 10 minutes, depending on the sizes of your carrots). Drain carrots and place them into a casserole dish.
In the saucepan over low heat, melt butter. Add in onion. Add evaporated milk, cheese, thyme, tarragon, salt, and white pepper. Stir until cheese is melted and smooth.
Remove from heat and stir in 3/4 cup of the crushed cheese-flavored crackers. Pour over carrots in the casserole dish.
Sprinkle top with remaining 1/4 cup crushed cheese-flavored crackers and paprika.
Bake, uncovered at 350 for 20-25 minutes.