CoffeeB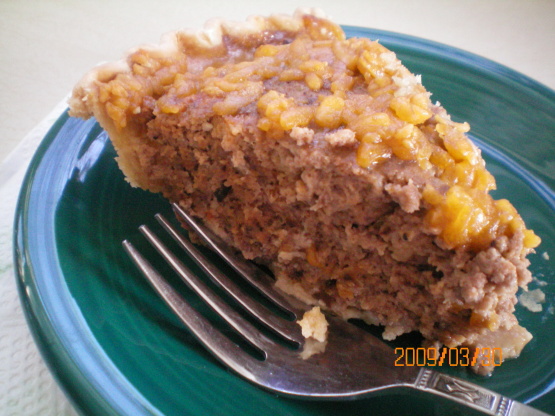 Cheeseburger pie--really better made with ground turkey or ground pork, or a mixture of the two. If made with ground beef, it must be VERY lean, or you will have a soggy crust!

This is almost like a meatloaf only with crust. I probably should have served this w/a side of mash potatoes or at least a veggie...but upon asking DH he said it was meal in itself and nothing else was needed. Alrighty then....nuff said. This went together in no time. I might add however that you furture reviewers should heed the advice of Kerfuffle and make sure your hamburg is very lean. Mine wasn't real, and it did make the crust a bit soggy. I even prebaked the crust for 5 minutes...still it wasn't that bad that anyone said anything. Tagged and made for Springs' PAC 09.
MEAT PIE directions:.
Preheat oven to 375°F.
Combine first ten (10) ingredients.
Press meat mixture into unbaked pie crust.
Bake at 375°F for 50 minutes.
CHEESE TOPPING directions:.
Combine cheese and Worcestershire sauce and spread on top of baked meat pie.
Bake an additional 10 minutes.
Cool 10-15 minutes before slicing.
6-8 servings.