Cheesy Brussels Sprouts Bake
Parsley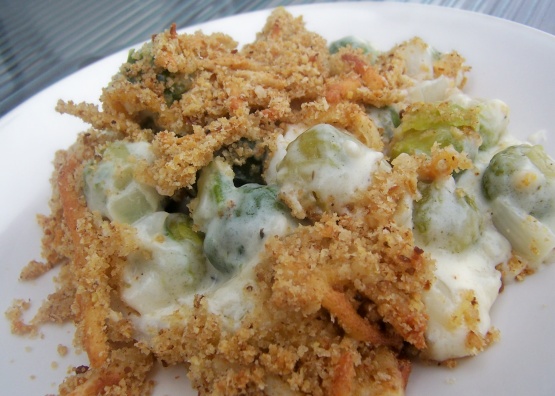 A turkey or prime rib dinner just can't go without this! This can be doubled if desired. To save some time cook the sprouts hours in advance or a day ahead.

Top Review by tarab5
I'm looking for a way to turn boring Brussels sprouts into something I look forward to eating. I used a heaping tablespoon of garlic and it was way too much; it overpowered everything else. I'd suggest keeping it down to a couple cloves. I'd prefer the sprouts to be cut in half before baking; the whole ones made eating a little more challinging, especially if you don't have a knife handy. This just barely fit into an 8x8 pan.
Set oven to 350 degrees.
Grease a baking dish large enough to hold the mixture (about an 8-cup).
To make the topping: stir together the bread crumbs and melted butter, add in the cheese, mix well until combined; set aside.
Wash and trim the sprouts and cut an "X" in the bottom.
Cook the sprouts in boiling water for about 7-8 minutes, or until fairly tender.
Drain and plunge into ice water or very cold water (squeeze out any excess water with hands).
Place into prepared baking dish.
In a saucepan, melt butter over medium heat.
Add in the thyme, fresh garlic (if using) and chopped onion; saute for 3-5 minutes until soft.
Add/whisk in flour, cook whisking for 5 minutes.
Add in half and half cream, seasoning salt and pepper; bring to a very light boil, and whisk continuously for about 6-7 minutes until mixture is smooth and thick.
Remove from the heat.
Add in the gruyere cheese; stir until melted.
Pour the creamed mixture over the sprouts in the dish.
Sprinkle with the topping mixture.
Bake for about 30 minutes, or until golden brown and bubbly.
Delicious!