Parsley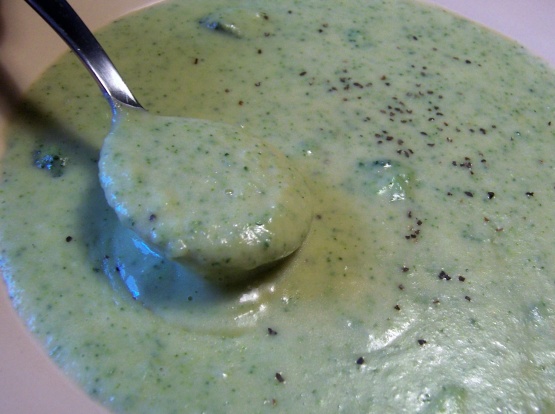 This delicious thick cheesy soup is delicious and freezes well. The potatoes help thicken it with out flour but don't add a real potato flavor. I make a big batch then freeze small containers to reheat quickly in the microwave when the craving for it hits me.
Cut broccoli heads into florets. Peel and chop any stalk that is remaining.
Heat olive oil in a large pot over low heat. Add onions and broccoli. Cover and cook about 10-15 minutes or until broccoli is tender.
Remove about 1 cup of florets and save in a bowl. Add potatoes to soup pot.
Add chicken broth and bring to a boil. Season with salt and pepper. Reduce heat to a simmer and cover and cook for 10 minutes or until potatoes are tender.
Use a stick blender to puree in the pot or remove batches to a blender and carefully puree the hot soup.
Add milk to soup in pot. Stir and heat through. Stir in cheese and broccoli florets that had been set aside. Heat until cheese is melted.