Cheesy Broccoli Potato Soup
Parsley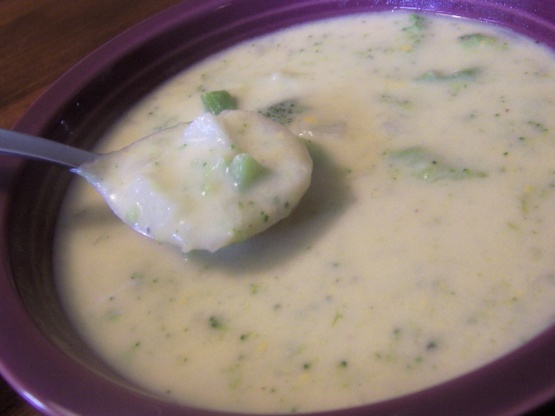 I got this from a Superbowl recipe card. It's a recipe from Brett Favre of the Green Bay Packers.

I have made this soup a few times with some alterations. My whole family loves it! I use all-purpose gluten free flour with no problems. I cook the broccoli separately, then chop it up a bit smaller and add it at the end when I put in the cheese. I also like to add 1-2 cups chopped carrots to cook along with the potatoes. I lessen the milk to 3 cups to get a thicker soup. I increase the salt to 2-3 tsp, and increase the pepper to at least 1 tsp. Very tasty soup!
Melt butter in a large saucepan. Add onion and cook until tender.
Add flour; stir until blended. Gradually stir in broth. Heat until slightly thickened.
Add milk, broccoli and potatoes.
Cook on low heat about 15 minutes or until broccoli and potatoes are tender.
Stir in cheese and seasonings.