Cheesy Broccoli Bacon Chicken Casserole
Leslie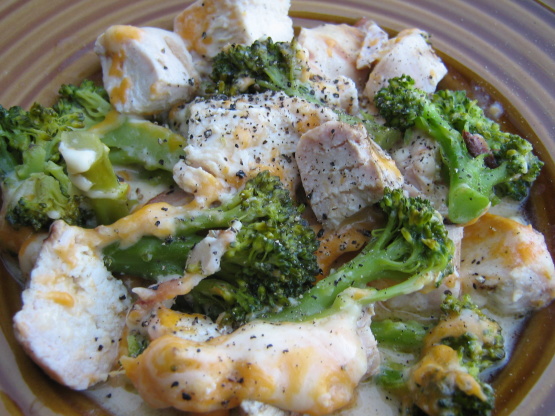 I created this dish to use the broccoli I had bought for the first time in my life (used to hate the stuff!) and to fit my parents' low carb diet. The fastest way to pre-cook the broccoli, chicken and bacon is by using a combination of the microwave and stovetop. I cooked the bacon and chicken in the microwave--separately--and I steamed the broccoli--but you could also nuke the broccoli and saute the other two).

I made this for dinner tonight and it was delicious. I only had cheddar cheese and parmesan and so that is what I used. I also cooked 1/2 cup of brown rice and stirred that in. My grandson, daughter and I, all loved in. It is a keeper. Thanks for the recipe.
In a medium saucepan, heat chicken stock until boiling.
Reduce heat to low and stir in sour cream and milk.
When dissolved, stir in monterey jack.
When dissolved, stir in cream cheese.
Add garlic powder, ground pepper, and bacon grease (optional).
Whisk until smooth.
Remove sauce from stove and pour into the bottom of a rectangular glass casserole dish.
Layer chicken, bacon and broccoli over the sauce.
Sprinkle cheddar/jack and parmesan over the top.
Bake at 350 for 15-20 minutes.