Cheesy Broccoli and Cauliflower
sydsmama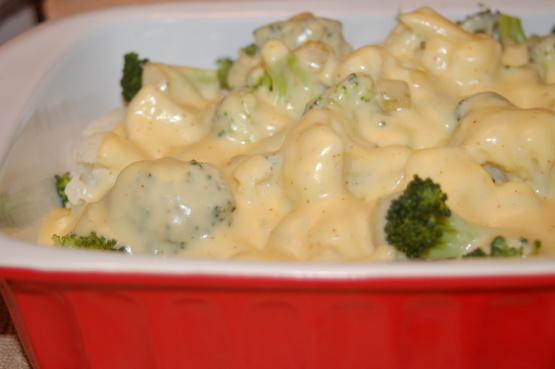 Great way to dress up veggies!

I brought this dish to a friends house for dinner, because she has a veggie picky son and a veggie picky husband. I left out the hot sauce to make it more kid friendly. We were all happy with the result - very tasty!
Cut broccoli and cauliflower into florets, discarding outer leaves and stems.
You should have about 8 cups broccoli florets and 4 cups cauliflower.
In a large pot, bring 8 cups of lightly salted water to a boil.
Add cauliflower; cook 2 minutes.
Add broccoli; cook an additional 6 minutes or until vegetables are crisp tender. Drain.
While vegetables are cooking, make Cheese Sauce:.
In a medium-size saucepan, melt butter over medium heat. Whisk in flour and cook 1 minute.
Gradually whisk in the milk; continue to whisk until smooth. Bring to a boil.
Remove from heat and stir in cheese, mustard, chiles, hot-pepper sauce and salt.
Stir until smooth. If a thinner sauce is desired, stir in a few more tablespoons of milk.
To serve, place vegetables in large serving dish and pour cheese sauce over the top. Serve immediately.
Do Ahead: Cook vegetables, rinse under cold water to stop cooking. Drain and refrigerate. Prepare sauce; let cool, then cover and refrigerate up to a day ahead.
To serve, uncover; remove from refrigerator and let stand 30 minutes.
Reheat separately in microwave oven (adding more milk to sauce as needed).