Cheesy Bread Machine Breadsticks
Derf2440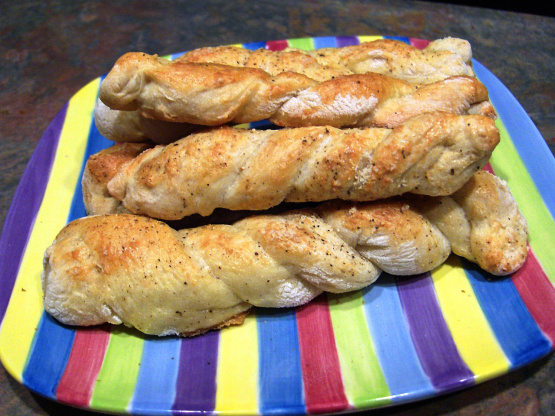 Got this recipe from Better Homes and Gardens. We love all kinds of different breads. Haven't gotten to try it yet but sure sounds delicious.

These are fabulous. The flavor is great. Easy to make. The only issue I have is that they are much skinnier than the picture. I was expecting these big fluffy breadsticks and they are only a little bigger than my finger. I followed the instructions exactly and I make yeast bread at least once per week, so I'm not new to this. However, perhaps I made a mistake. Anyway great recipe.
Add warm water,oil,3/4tsp salt,to a 1 1/2lb to 2lb bread machine.
Add 2c.bread flour, parmesan cheese, Italian seasoning,1/2tsp black pepper, Monterey Jack cheese than add the last 1cup of bread flour.
Make a hole in dough and add the yeast.
Set machine to the dough cycle.
After cycle has finished, punch dough down and cover and let rest 10 minutes.
Divide the dough into thirds after rising.
On a lightly floured surface, roll each portion into a 14x10-inch rectangle. Using a pizza cutter or sharp knife, cut the dough lengthwise into 1/2-inch-wide strips.
For each breadstick, pick up 2 strips together and twist several times; press ends together.
Place breadsticks 1/2 inch apart on greased baking sheets.
Stir together egg white and water; brush onto breadsticks.
Sprinkle with pepper, salt, and/or cheese.
Bake in a 400 degree oven for 10 to 12 minutes or until golden brown.
Remove from baking sheets; cool on wire racks.