Cheesy Bone Cookies for Your Favorite Pooch!
breezermom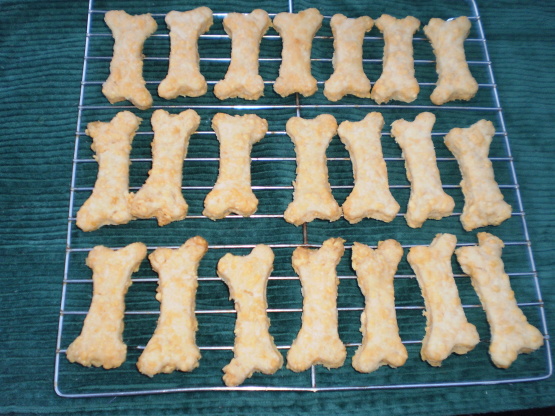 I love to make these cookies for my GSD (German Shepherd Dog) Gunnar. He loves them! Funny thing is, the kids like them too...go figure!

My WFT absolutely LOVES these! I used chicken broth instead of water but my dough was a little hard too, so I added more and it worked out just fine! She knows when I'm making these because of the garlic smell and begs for the dough! Silly dawg.
Pre-heat oven to 400 degrees.
Combine flour, cheese, garlic & oil.
Knead well, adding water as needed to form stiff dough.
Roll out on floured surface to 1/2" thick, cut into bone shapes.
Bake at 400 degrees for 10 or 15 minutes until bottom of cookies are lightly browned. Cool completely on wire rack.