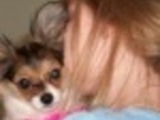 This is my granddaughters favorite lunch. It's not gourmet but it is easy and cheap. And most important, she'll eat it!!
Directions
Combine the ketchup, mustard, molasses, and apple cider vinegar in a saucepan. Add the hotdogs, cheese and beans.
Cook, stirring over medium-low heat for 10-15 minutes until thoroughly heated through and cheese is melted. Season to taste with salt and pepper.
Reviews
Most Helpful
Excellent quick dinner tonight!!! I put to much cheese in so it became a dip with chips. The kids ate it up!! Thanks for a great quick recipe!!!
Yeah, a great kiddie lunch, A great grup lunch, too. I had to sub cheddar cheese cause I was all out of Velveeta, but it was still great. It isn't something that has to wait till kids are around.

This is a great kiddie lunch. So easy to make, too! I added some chopped onion and used cheddar cheese in place of Velveeta. thanx for sharing your granddaughter's favorite. I'll make this again.