Cheesy Beef and Macaroni With Thyme
Mika G.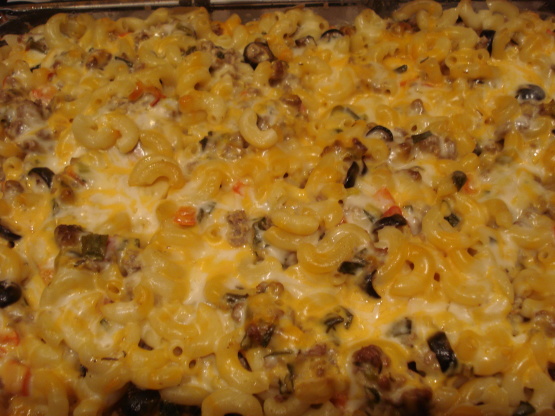 This recipe is a favorite at my house. The list of ingredients my sound sorta strange but it makes a yummy casserole! We serve it with garlic bread.

I thought this dish was suppose to be on the saucy side, but it just tastes like thyme, black pepper, and the pasta. I normally try to find a positive with every meal, and the only positive with this one is it was easy to make.
Preheat oven to 350 degrees. Lightly grease a large casserole dish.
Bring a large pot of water to a boil. Place macaroni in the pot, cook 9 to 11 minutes, until al dente, and drain.
In a large skillet over medium heat, cook and stir the ground beef, onion, red peppers and garlic until beef is brown and vegetables are tender.
Stir in wine, and continue cooking 1 minute. Mix in milk, mustard, soy sauce and black olives, stir until heated through. Whisk the flour into the mixture and gradually stir in 2 cups of the cheese until melted.
Mix in the thyme and add the macaroni to the skillet. Stir until combined and place in the prepared casserole dish. Top with remaining cheese.
Cook uncovered 30 minutes in a preheated oven until bubbly and lightly brown.