Cheesy Beef and Egg Noodles
Parsley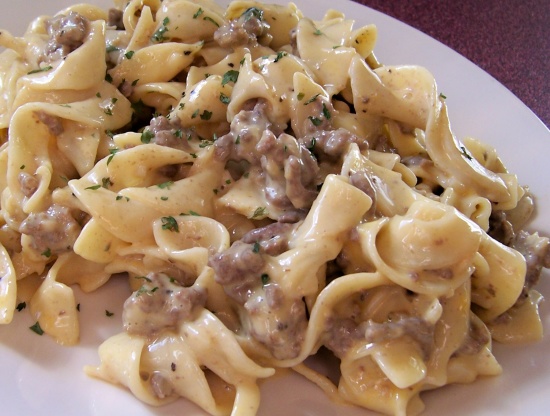 My husband LOVES hamburger helper. So one evening when we didn't have a box in the pantry, I improvised. I like it better than the box! he he

As written, we thought this was good. But we made a lot of changes to make it even better. I doubled the cheese (used 16 ounces shredded velveeta) and about 3/4 cup milk because I thought the original recipe was dry. I then doubled all the other ingredients other then the garlic, noodles and beef. My family then thought the recipe was great. It does taste like Hamburger Helper stroganoff but better. Will make again with the above modifications.
In a large skillet heated over medium heat brown beef until almost all of the pink is gone. Season to taste with salt, pepper and onion powder.
Cube the Velveeta cheese into small chunks and put them in a small sauce pan heated over medium low heat. Stirring constantly, add in garlic, Worcestershire sauce, milk, onion powder, salt and pepper to taste. Cook until creamy and smooth.
In a large pot boil water and cook noodles to directions on packaging.
Once meat is almost fully cooked add in Velveeta sauce. Drain the pasta and add to skillet. Stir and serve.
I like to serve this with green beans or carrots. Sometimes I add on a salad for myself. Very quick and uncomplicated. Hope you enjoy!