arleen99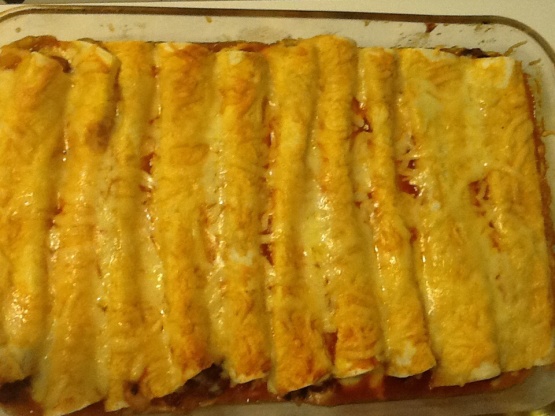 These are very yummy enchiladas with a creamy bean filling and cheesy topping. Inexpensive to make, wonderful if you're on a budget.

We loved it. I made my own enchilada sauce, following exactly besides that.

Little bit of filling left made excellent bean dip.
Heat oven to 350. Saute onion and garlic in oil until onions are softened.
Add 1/2 of each type of beans and mash with a potato masher, then add the remaining half of beans.
Add 1/2 of enchilada sauce, 1/2 cup salsa, cumin, and salt and pepper; simmer and mix on low heat for about 3 minutes or until heated through.
Fill each tortilla with about 3 tablespoons of bean mixture and a sprinkle of cheese and roll up leaving ends open, arranging seam side down in a greased 9 x 13 inch baking dish.
Mix the 2 tablespoons of water with the remaining enchilada sauce and pour evenly over tortillas.
Sprinkle with remaining cheese and bake, covered, for about 15-20 minutes.
Serve with extra salsa if desired.