Cheesy Barbecued Corn on the Cob
Nif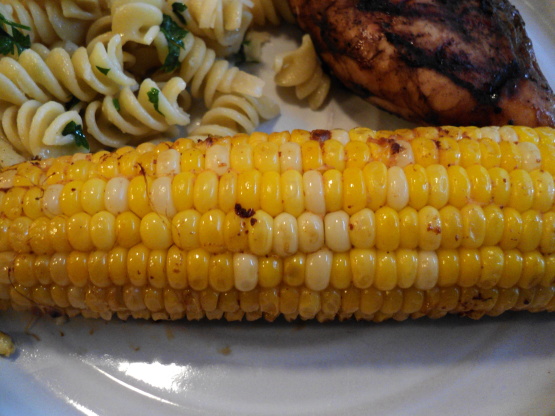 Adapted from Semi-Homemade Cooking with Sandra Lee, this is yummy!
Sharon this was the best! I used only 4 ears. Instead of softening the butter I melted it, added 1 1/2 Tbsp. cheddar cheese powder(that I bought in bulk form) and kept the chili powder at 1 tsp. since we love the stuff!. Rather than wrapping the ears individually in foil I placed them in a pyrex 8x8 baking pan, pured the butter mixture over the corn, than rolled them to evenly coat. I than covered the pan tightly in foil and baked at 350' for 40 min. DELICIOUS! Thanks so much for sharing this...
Preheat outdoor grill or preheat oven to 400°F.
Shuck corn. If desired, leave husks attached to cob to use as holders.
In a small bowl, combine softened butter, chili powder, and powdered cheese packet or creamy cheese sauce.
Spread butter on corn and wrap each ear individually in foil.
Place on the grill and close the lid or place in the oven. Cook 25 to 30 minutes, turning every 5 minutes, or until corn is tender. Remove foil and serve.