Cheesy Baked Ham Omelet Squares
MsSally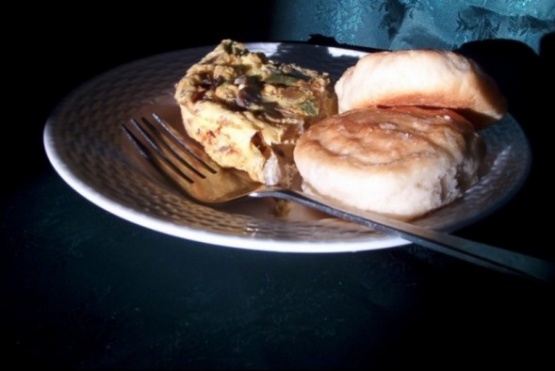 This is wonderful to serve at a brunch, the Tabasco is only optional I add it in for an extra boost of flavor -- you may use cooked crumbled sausage meat in place of the ham, feel free to add in frozen broccoli, olives, jalapeno pepper or whatever you wish --- you are going to *love* this! :)

It was a rainy morning so fired up the oven and made this recipe. It was a good and hearty breakfast. I used bacon and frozen peppers and onions. I also used four blend cheese as that is what I had. I just mixed everything in a mixing bowl together and poured into a pan and cooked. It was good. We really enjoyed it.
Set oven to 375 degrees F.
Butter a 13 x 9-inch baking dish.
Sprinkle 1-1/2 cups cheddar cheese, mushrooms and ham on the bottom of the baking dish; set aside.
Melt butter in a skillet over medium heat; add in onion and green bell pepper and cook until softened (about 3-4 minutes) then sprinkle the mixture on top of the ham in the baking dish.
In a bowl whisk the eggs with baking powder cream, salt, pepper and Tabasco until well blended; pour over the ingredients in the dish (do not stir).
Bake uncovered for 25-30 minutes or until the eggs are no longer runny and the center is set and top is slightly browned.
Sprinkle top of the casserole with 1-1/2 cups cheddar cheese, you may stick the pan back in the oven for a couple of minutes to melt the cheese or the cheese will still melt is sprinkled on right our of the oven.
Cool then cut into squares.