loof751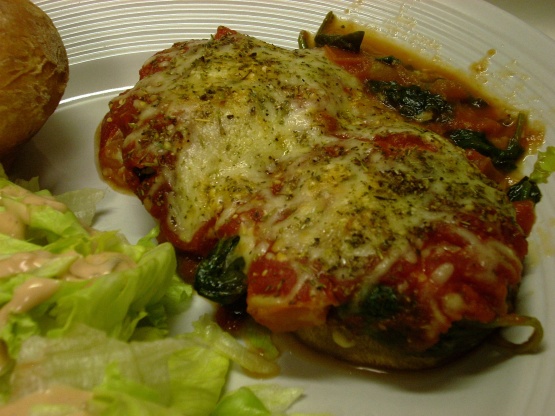 Don't feel like cooking another pasta dish? Try this eggplant alternative. Delicious and cheesy!

Made this for a dinner party - I could have easily eaten the entire pan myself. DH was amazed that I was willing to try an unknown recipe, and was looking at me in amazement while I was wilting the spinach, totally unsure that it would cook down. I liked the fact that there was no breading or frying of the eggplant. The little leftovers we had reheated fairly nicely as well. Thanks for posting !
Preheat the oven to 350°F (175°C). Brush eggplant slices with olive oil on both sides, and place them on a baking sheet. Sprinkle garlic powder over the top. Bake for 10 minutes.
Heat 2 tablespoons of olive oil in a large skillet over medium heat. Add the onion, garlic, tomatoes and spinach. Cook and stir for a few minutes until fragrant, and the tomatoes have released their juices. In a medium bowl, mix together 1/2 cup of ricotta cheese, 1/2 cup of mozzarella cheese, and 1/2 cup of Parmesan cheese. Set aside.
Place the eggplant slices in a greased 9x13 inch baking dish. Top with the spinach mixture. Spoon the cheese mixture over the spinach, and spread into a thin layer. Pour the spaghetti sauce over the cheese layer. Sprinkle the remaining mozzarella and Parmesan cheese over the top. Sprinkle with Italian seasoning.
Bake for 30 minutes in the preheated oven, or until heated through and the eggplant is easily pierced with a fork.