Cheesy Baked Beans in Baked Potatoes
ImPat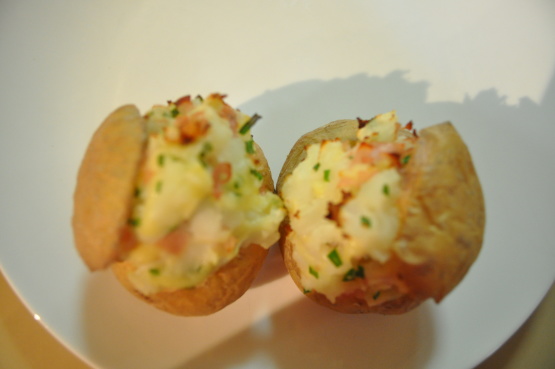 Being a Kiwi my favourte baked beans are Watties! Cabanossi can be used instead of salami. For anyone that doesn't know Cabanossi is a type of dry sausage, similar to a very mild salami. It is made from pork and beef, lightly seasoned and then smoked. It is commonly cut into bite sized chunks and eaten cold as an appetiser or snack, often with cubes of cheese and crackers. Sliced cabanossi is also a popular pizza topping.

Top Review by ImPat
Made this for the DM as a light dinner and as she does not like spicy I used ham in place of the salami and used recipe #226233, I used 2 medium potatoes and baked them in the oven as I already had it on and scooped as much of the potatoe out as possible as I knew the DM would not eat the skins and she thoroughly enjoyed. Thank you Jewelies, made for Make My Recipe - Edition 11.
4

large potatoes, scrubbed
1⁄4 cup salami, finely chopped
1⁄4 cup tasty cheese, grated

2

teaspoons fresh chives

220

g baked beans
Preheat oven to 180°C.
Line a baking tray with baking paper.
Pierce potatoes in several places with a skewer.
Arrange on turntable of microwave oven and cook on high for 12-14 minutes or until tender.
Meanwhile in a small bowl combine salami, cheese and chives.
Cut a small slice off base of each potato to allow them to sit flat.
Using a teaspoon, scoop out about 1cm of potato centre.
Chop excess potato and mix with salami mixture.
Place potatoes on prepared tray and spoon an even amount of baked beans into each potato.
Divide salami mixture between potatoes.
Bake for 10-15 minutes until topping is crispy.