Cheesy Bacon Baked Potatoes
Prep 20 mins
Cook 1 hr 20 mins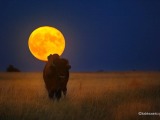 Just another baked potato, but it is very good. Great served with grilled steaks.
Directions
Scrub potatoes, pat dry and pierce with a fork.
Bake at 425 for 55-65 minutes or until soft.
While potatoes are baking, cook bacon in a skillet until browned, cool and crumble.
In 2 Tbsp of bacon grease, saute onion and green pepper until still tender crisp, then add mushrooms and saute until mushrooms are cooked, then set aside.
When potatoes are cooked, cut a slice from the top of each.
Scoop out the flesh, keeping the shell intact.
Mash potato, adding 1 cup of the cheese, milk, butter, egg, salt, vegetable mixture and half of the bacon.
Spoon mixture into the shells, top with remaining cheese and bacon.
Bake at 350 for 20 minutes or until slightly brown on top.
Reviews
Most Helpful
Great recipe. Didn't have mushrooms, but I don't think it would have been a major taste changer. I also have to admire anyone who can make only four slices of bacon! I made the whole pound.
These were awesome!!! We did leave the mushrooms out as none of us like mushrooms, and only DH had the onions and green peppers in his, but still these were outstanding!! I think next time we'll just make a salad with this next time as these were really filling...we had hamburgers and nobody could finish the burgers but we all finished the potatoes! I also had a problem keeping the skins intact but I think I just need more practice so we'll be making this often! Thanks Oz for a wonderful recipe and congrats on the football pool win!

Excellent potatoes!! I loved having so many of my favorite flavors all together. Believe it or not, I had no butter so I added a couple of tablespoons of sour cream which worked fine. Loved them!!!