Cheesy Bacon and Garlic Chicken
CandyTX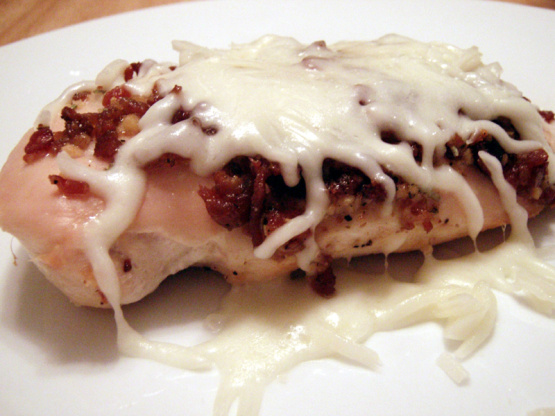 This came about when I combined my cravings.
This was okay, but it was missing something. Four cloves of garlic was too strong for the rest of the ingredients. The chicken turned out a little chewy, which I didn't expect with all the bacon drippings. I won't be making this one again, but it didn't ruin dinner either. It used up the items I had on hand. Handy recipe.
Turn oven to 350 degrees.
Put boneless, skinless chicken breasts in a glass baking dish.
In a small bowl combine oil, bacon, garlic, rosemary, and pepper, stirring until well blended.
Spoon bacon mixture over chicken.
Bake at 350º for 45-55 minutes or until chicken is done.
Sprinkle with cheese 5-10 minutes before removing chicken from the oven.
Serve right away.