Cheesy Artichoke Chicken Balls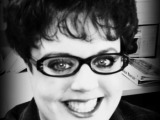 I love artichoke dip and use it to stuff chicken breasts so I decided to combine the two to make a tasty appetizer.
Directions
Combine all ingredients except for the bread crumbs. Roll chicken mixture into one inch balls then coat with bread crumbs. (Note: If the mixture is sticky, dropping it into the bread crumbs first will enable you to roll it into ball form.
Bake at 350 degrees for approximately 40 minutes.