Cheesy Apple Breakfast Quesadillas
loof751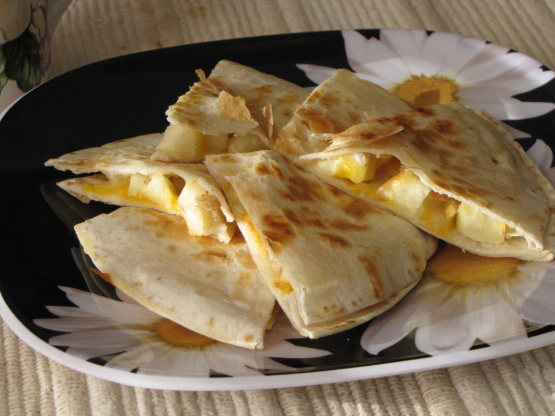 Make ahead breakfast treat the the kids can grab and microwave or eat cold on the way to school.

pretty good. the cinnamon sugar adds a lot more than i expected. Quick easy snack/breakfast
Spread each flour tortillas with 1 tablespoon sour cream; sprinkle with.
1 teaspoons cinnamon sugar.
Top one tortilla 1/3 cup cheese,1/4 cup chopped apple and second tortilla.
For each serving, melt 1 tablespoon butter in a large skillet, brown quesadilla.
1 minute on each side or until lightly browned, carefully turning over tortilla.
Cut into wedges. Serve with sour cream, if desired.