KellyMae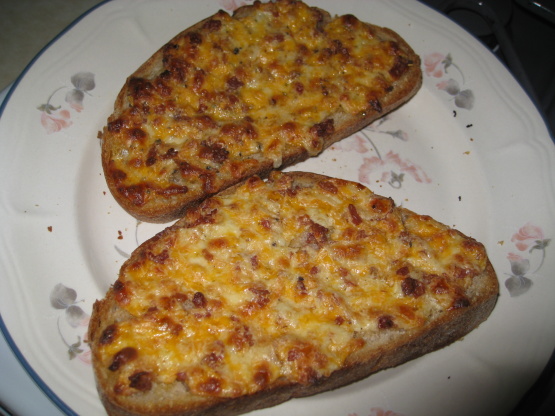 A long time favorite that I have been making forever. This page was torn out of the cookbook so I have no idea where it came from. All I know is that it is easy and good !!

I've been making a slight variation of this recipe for years and with Super Bowl just a few days away I'll make them again. I use ie 1 cup cheddar, 1 cup monterey jack, 1/2 cup parmesan, and add chopped green onions to taste. Add just enough mayo to hold together and spread on cocktail rye. It's even better if you can make this up the day before serving so the onion flavor is better. This is a formula so you can make as much as you like. 2 cups cheddar, 2 cups jack, 1 cup parm. You get the idea. Enjoy!
Mix all together except bread.
Spread mixture on each slice of bread.
set broiler at 550.
broil at least 4-5 inches from heat for about 1-2 minutes.
These are yummy !