Cheesiest Potato Casserole
KathyP53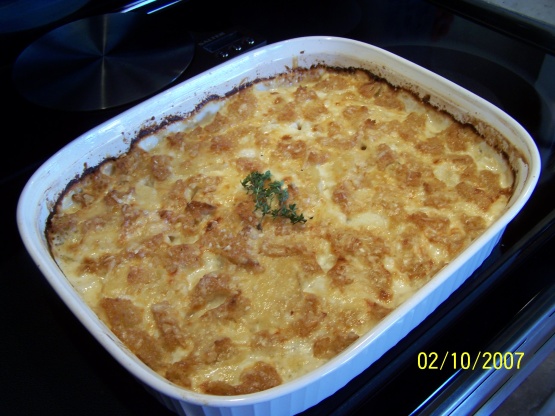 This is a great potluck recipe. Brown and crusty on top with a creamy, yummy, potatoey center. I found this in Cook's Country magazine.
Adjust oven rack to middle position and heat oven to 350 degrees. Use cut side of halved garlic to rub sides and bottom of 2 quart sallow baking or gratin dish. Allow garlic in dish to dry briefly, about 2 minutes, then coat dish with softened butter. Combine cheeses in small bowl.
Bring minced garlic, cream, broth, thym, nutmeg, salt, and pepper to boil in large saucepan over medium-high heat. Reduce heat to medium-low and simmer until liquid is reduced to 2 1/2 cups, about 5 minutes. Remove from heat and gently stir in potatoes.
Spoon half of potato mixture into prepared dish. Sprinkle with half of cheese, add remaining potato mixture, and press with spatula to compact. Press bread pieces into casserole. Bake 40 minutes. Sprinkle remaining cheese on top and continue baking until golden brown and bubbling, 25-30 minutes. Remove from oven and allow to rest for 20 minutes before serving.
Can be made 24 hours ahead (leave off bread) and refrigerated up to 24 hours. WHen ready to bake, add bread topping and bake according to recipe. Can be doubled and baked in two 2 quart baking dishes.