Bergy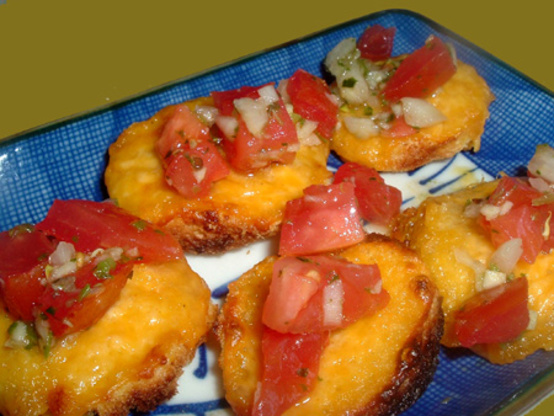 My sister always made these when I visited her in Fla. and they are so good. As soon as I make a pan of these they are gone in seconds. If you're a cheese lover they are the best.
Take loaf of bread. Cut out 1 in. circles out of slices of bread (should get 4 or 5 circles out of 1 slice.) When all slices are cut into circles, put them on a cookie sheet.
Turn your broiler on and toast one side of the bread for only a minute. WATCH THEM SO THEY DON'T BURN.
When they are toasted on one side take them out and flip the circles over. Set the circles aside and preheat oven to 350.
Take a bowl and mix all the ingredients together and spoon about a tsp. of mixture onto the circles of bread not toasted.
When you have all the mixture on circles, put in the oven and bake for 10 minutes.
Watch them; when cheese is melted and bubbly it is done.
Don't bake longer than 10 minutes. Serve immediately.