GaylaJ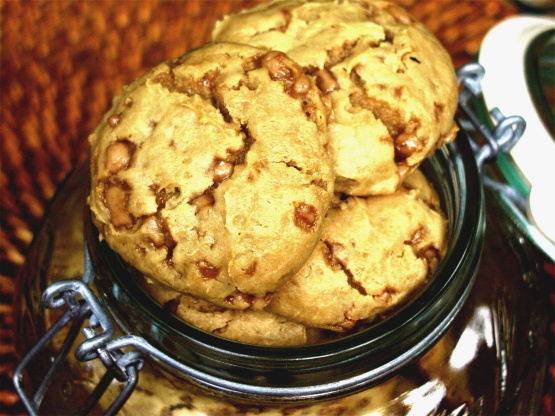 This recipe was just posted in The Houston Chronicle. Little Cheesecake/Toffee Cookies--rich and delicious. Hope you enjoy.

I made these this morning and they are terrific! It took me awhile to find the choclate coated toffee bits but I am so glad I did. I used light cream cheese but otherwise made as posted. I made exactly 24 cookies using my cookie scoop. These are going on my cookie list for Christmas baking. Thanks so much for posting!
Place rack in center of oven and preheat oven to 300 degrees.
Set aside an ungreased baking sheet.
Place flour,baking soda and salt in a small bowl and whisk to blend well.
Place brown sugar, cream cheese and butter in a medium sized mixing bowl and beat with a hand-held electric mixer on medium speed until dough is lighter in texture, about 20 seconds.
Add egg and vanilla, mix briefly to blend.
Scrape down sides of bowl and add flour mixture.
Beat on low speed just until dry ingredients are blended inches.
Stir in chocolate-covered toffee with a wooden spoon.
Drop cookie batter by rounded tablespoons into twenty-four mounds onto baking sheet, spacing them 1-1/2 to 2 inches apart.
Bake until cookies appear dry and are golden, up to 20-25 minutes.
While cookies are baking, lay waxed paper on wire rack.
Remove baking sheet from oven and immediately transfer cookies to waxed paper.
Let cookies cool completely.