Prep 30 mins
Cook 1 hr 15 mins
This is a very dense cheesecake with a very smooth and creamy filling. The crust tastes like a lemon cookie. This does take some time to make but very well worth the effort.
Directions
MAKE CRUST: Combine first 3 ingredients.
Cut in butter until mixture is crumbly.
Add egg yolk and vanilla.
Blend throughly.
Pat 1/3 of the dough on the bottom of a 9-inch spring-form pan (sides removed).
Be sure to leave the edges clear to put the sides on later.
Bake in 400 degree oven about 8 minutes or until golden, Cool.
Attach sides to bottom, butter and pat remaining dough on sides to height of 1 3/4 inches.
MAKE FILLING: Beat cream chesse until creamy.
Add vanilla and lemon peel.
In a separate bowl mix together sugar, flour and salt.
Gradually blend into cheese mixture.
Add eggs and egg yolks one at a time, beater after each just to blend.
Gently stir in whipping cream.
Pour into the crust lined pan.
Bake at 450 degrees for 12 minutes; reduce heat to 300 degrees and continue baking 55 minutes.
Remove from oven; cool.
Loosen sides with saptula after 1/2 hour.
Remove sides at the end of 1 hour.
Allow to cool 2 hours longer.
Serve plain or top with Strawberry or Pineapple Glaze.
STRAWBERRY GLAZE: In a saucepan crush 1 cup of the berries; add the water and cook 2 minutes.
Mix the cornstarch with the sugar (amount depends on how sweet the berries are).
Stir into hot berry mixture.
Bring to boiling; stirring constantly.
Cook until thick and clear.
Cool to room temperature.
Place remaining strawberries on top of the cooled cheesecake.
Pour glaze over the strawberries and chill about 2 hours.
PINEAPPLE GLAZE: Combine sugar and cornstarch in saucepan; stir in pineapple juice and lemon peel.
Heat, stirring constantly, until mixture comes to boiling.
Cook and stir until thick and clear.
Cool to room temperature.
Cut canned pineapple rings in half; arrange in a spoke fashion around edge of cheesecake.
Spoon glaze over; chill 2 hours.
Reviews
Most Helpful
very good indeed. Being a cheesecake guru, I can say this is a wonderful cheesecake. I did not use any toppings, and I would just omit the crust altogether next time, although it was unique to cheesecake recipes and a good crust.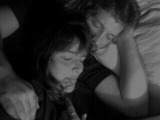 Oh. My. Goodness! What a delicious cheesecake!! The "only" part of the recipe that gave me fits was baking the crust in two parts---I pre-read the recipe, but for some reason I didn't catch that part until AFTER I'd already popped it in the oven....so I pulled it out, but it was too late (the butter was already melting). Even to make this again, I probably wouldn't do the two-part thing, just because mine turned out so well without doing it this time, too! Served this to guests for Easter dessert---and the part they commented on WAS the crust!!---that it was a NICE change from the usual graham cracker crumb crust!!! We rated it as 5-stars for that alone! Well, and the cheesecake part too, :-) I didn't make the pineapple glaze as listed, but just tossed some fresh pineapple chunks into the blender (coarse grind--to maintain integrity) and spooned that over the cake. Yummy! A very nice balance with the sweetness of the cheesecake. KEEPER!!!