TigerJo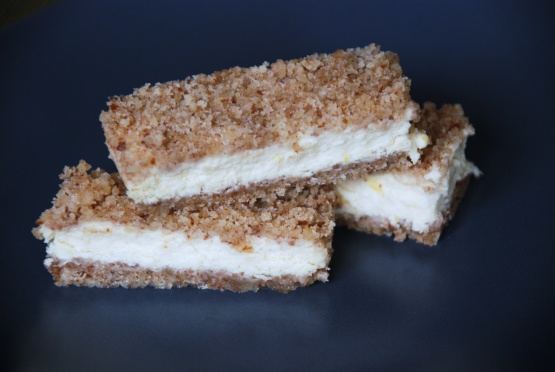 I love this recipe because it got me an "A" one week in my "Newspaper In Classroom" class back in high school. If we made a recipe we found in the newspaper, and the teacher liked it, he'd grade us well. My teacher's questionable grading practices aside, this is a great recipe!

Top Review by MarlaM
This was just great! So easy and great taste! I subbed pecans for walnuts, due to a personal perference, and have since used this crust in other pie recipes that call for graham cracker crust - much better! I gave some to to my SIL and her family loved it too. Thank you for a great desert and super great crust!!
Preheat oven to 300F; spray 8x8 pan with non-stick pan spray, set aside.
In food processor, combine brown sugar, nuts, and flour.
Add melted butter& blend until crumbly (or combine all with a pastry blender).
Reserve 3/4c for topping; press remainder firmly in prepared pan.
Bake for approx 10-12 minutes.
Meanwhile beat cream cheese and sugar in a medium bow; add remaining ngredients and beat until smooth.
Pour cheese mixture onto crust; top with reserved crumbs and bake another 25-30 minutes.
Cool; cut into squares.