Cheesecake Factory's Louisiana Chicken Pasta
aencalada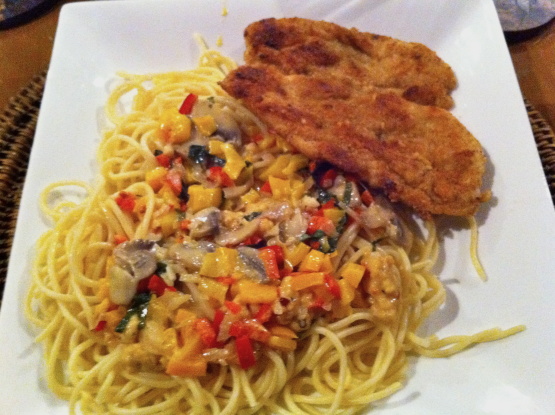 Recipe created by Abigael at cajuncookingrecipes.com

Top Review by Debbb
I've never been to the Cheesecake Factory so I can't speak to the authenticity of the recipe. It had really great flavour, though! If I was to make it again, I would "re-arrange" the method - I would get the chicken & pasta going before I made the sauce. With the method stated, the sauce got cold before everything else was cooked, and started to solidify - took a bit of elbow grease to get the sauce worked into the pasta.
Melt butter in large skillet over medium heat.
Add yellow and red bell peppers, mushrooms, and onion to same skillet,until crisp-tender, about 4 minute.
Add garlic and crushed red pepper to skillet and saute 3 minutes.
Add whipping cream and chicken stock.
Simmer until sauce re-heats and thickens slightly, about 5 minutes.
Add basil and 1 cup grated Parmesan cheese to sauce, stirring to incorporate.
Season sauce to taste with salt and pepper. Reduce heat to low, simmer; sauce will reduce and thicken.
Wash and drain chicken breasts.
Pound until very thin (the thinner the chicken breasts the better).
Mix breadcrumbs, flour, and Parmesan cheese together.
Place milk in dish for dipping.
Dip chicken in breadcrumb mixture and then in milk and then back in breadcrumbs.
Place in fry pan that the oil has been heated and fry at medium high temperature until golden crisp and cooked through.
Add more oil as needed.
Remove and drain chicken; keep warm.
Meanwhile, cook bow-tie pasta in large pot of boiling salted water until tender but still firm to bite.
Drain and return to pot.
Add sauce and toss to coat.
Place pasta with sauce on plate, and top with chicken breast.
Serve, passing additional Parmesan separately.