Cheesecake Factory Meatloaf
frico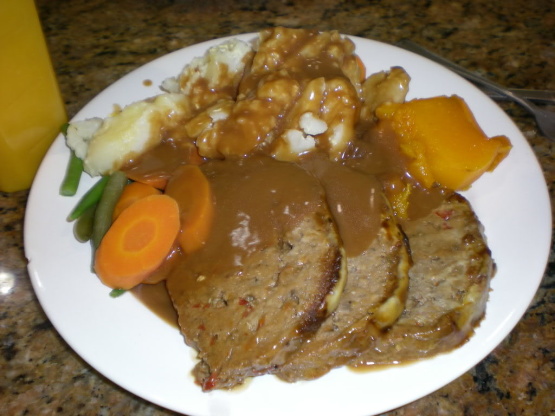 I absolutely love their meatloaf and I found this copycat recipe online. I haven't tried it yet, but I plan to very soon! **Update - ok so I made this last night and I must say it came out pretty good. My wife loved it, she'd probably give it 5 stars, I'd lean more towards the 4 star rating. Also the cook time was off, I think next time I'll cook it at 375 instead of 350, and I recommend a 5-8 minute broil at the end to crisp up the top. Enjoy!

My husband and eldest daughter really enjoyed this recipe. I am horrible at making meatloaf and this turned out great! I liked the texture, the flavor and the way it cut. I used 1 lb of pork and 1 lb of beef; skipping the veal. I free formed it in a pan instead of cooking in a loaf pan and cooked it for an hour with the last 20 minutes on speed bake.
Preheat oven to 350 degrees F.
Combine all ingredients in a bowl and mix well.
Pack into a 9 x 5-inch loaf pan and bake at 350 degrees F for 50 minutes.