Cheesecake Factory Chopped Salad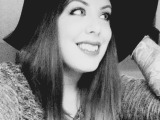 Directions
In a large bowl, combine lettuce, chicken, tomatoes, avocado, corn, bacon, blue cheese and apples.
Toss until mixed.
Add Balsamic Vinaigrette, tossing well.
For the dressing: in a small food processor, combine dressing ingredients.
Process until well blended.
Reviews
Most Helpful
Have made this a couple of times and really enjoyed it. Great main dish salad with grilled chicken, or without to serve with a meal. Thanks for sharing the recipe!

This recipe is excellent. I'm not sure that it's exactly like the cheesecake factory's, but it's pretty close and I keep making it over and over again. I leave out the chicken because I've been serving it as a side salad and I've also been leaving out the apple because I don't care for it in this salad.

Thanks for a great recipe! It's a keeper!