Cheesecake Factory Chicken Tortilla Soup - Copycat
ElGeeJay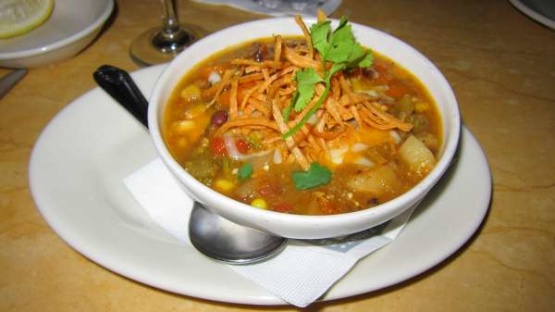 I have seen a surge in requests for this recipe, which I found very hard to locate! Enjoy my efforts : )

Here in Albany NY, this soup contains essential ingredients missing from this recipe: black beans, potatoes and rice. Only the potatoes and carrots are cut in large chunks.for mouth appeal. All others are small pieces, and the rice is very small. But, included with the tomatoes, and topped with the shredded cheese and tortilla strips on top, they make a wonderful vegetable soup. I cannot detect any whipping cream in the version served here in Albany - it's a heavenly, clear broth, deliciously satisfying in both cold and hot seasons. It's served only on Thursday, so I make it a weekly treat!
Simmer chicken in water, 3 carrots, 3 celery, 1/2 onion, 2 tbsp garlic, salt and white and black peppers for 2 hours.
Remove chicken and allow to cool. Meanwhile, remove all the excess fat and the vegetables used to simmer the chicken in and discard. Add a fresh batch of veggies to the pot.
Add Rotel, cilantro, corn, and cumin to the pot. Stir well.
Remove chicken from the bone and add to the pot.
Add cream just to get color and thickness.
Cut tortillas in strips and fry in peanut oil. Put tortillas in bottom of bowl, sprinkle with cheese and pour soup on top.