Carla R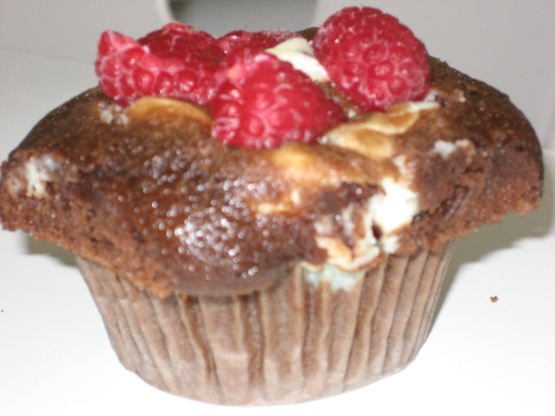 From the Nestle recipes, these are the creamiest and chocolatiest cupcakes you will ever have.

These were stunning & very well received. Fairly easy to make - the taste was worth the bit of fiddling required. I cut up about 6 strawberries & put in with the filling. Next time I'll take the previous reviewer's suggestion to only make 12 cupcakes. Thanks Johnna for sharing this lovely recipe.
Filling: In a medium bowl combine cream cheese, sugar, egg and salt; beat until creamy.
Stir in the 1/2 cup of chocolate chips and then set aside.
Cake: Preheat oven to 350°F.
Melt over hot water (not boiling) water the remaining 1/2 cup of chocolate chips and stir until smooth.
Remove from heat and set aside.
In a small bowl combine the flour, baking soda, and salt and set aside.
In a large bowl combine the sugar, vegetable oil, egg, and vanilla; beat well.
Stir in melted morsels.
Gradually beat in the flour mixture from the small bowl with water.
Spoon 1/2 of the batter into 16 cupcake foils. Spoon a tablespoon of filling over the chocolate batter. Spoon the remaining batter on top.
Bake at 350°F for 23-25 minutes.