A dear friend gave me this recipe and I have made it countless times. Easy to make and is just a wonderful dessert. I top it with cherry pie filling or fresh strawberries.
Directions
Combine graham cracker crumbs, 1/4 cup sugar and melted margarine.
Press into bottom of 9" springform pan.
Combine softened cream cheese, 1/2 cup sugar, eggs and 3/4 teaspoon vanilla.
Blend until smooth and pour over crust.
Bake at 375 degrees for 20 minutes.
Cool 10 minutes.
Meanwhile, combine sour cream, 1/2 cup sugar and 1 teaspoon vanilla.
Blend well.
Spread over cream cheese layer and bake for 10 minutes at 475 degrees.
Cool at least 5 hours or overnight in refrigerator.
Top with cherries or desired topping.
Most Helpful
Have been using this recipe now for years! The only substitution that I make is using real butter instead of margarine! I always get raves! This year I bought blueberries to go in the center on whipped cream with cherry pie filling around them for a "Fourth of July" theme!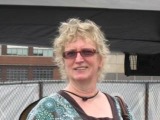 Loved the crust and the middle but next time Im not gonna use sour cream thanks!
This was great. I like the idea about using gingersnaps and will try that next time. I didn't have any fruit to top it, but it's delicious anyway. thanks for sharing!