Ahrrie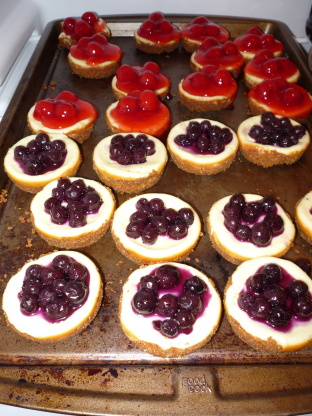 This recipe for cheesecake is the greatest. Every holiday, my entire family begs for me to make it. I always have to make three cheesecakes.

Top Review by Ahrrie
I had never made a cheesecake before, but a friend at work did a favor for me and I offered to bake them something delicious. I picked this recipe because it looked easy, and it was. Not to mention -amazing-. I don't even like cheesecake and I will eat this one! Its really simple to make and both times I've made it, it has come out with the perfect texture. I added photos of my most recent use- mini cheesecakes for a potluck at work. There are none left.
Preheat oven 325 degrees.
Don't microwave the cream cheese. Leave out to soften.
First, dump the cream cheese in mixing bowl, dump both eggs and mix.
Then put the sugar and vanilla extract in the mix.
I personally prefer to hand mix the cheesecake.
After the batter is extremely smooth, pour batter into the graham cracker crust. Place into oven for 30 to 50 minutes. When the center is almost set.
Then place in refridgerator over night.