Lawsome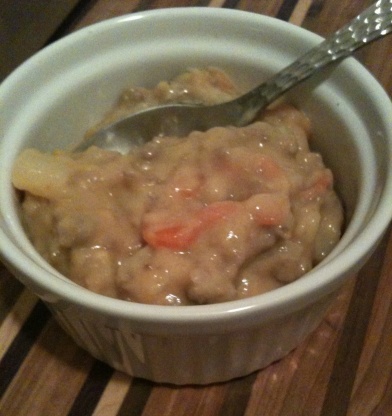 My family could not stop talking about how good this soup was! It came from Cuisine at Home: Splendid Soups. It recommended serving with Shoestring French Fries and chopped pickles. After making it, we also had the idea that it would be great served over toasted hamburger buns or biscuits.

While it was cooking (after adding the ketchup & mustard), it really smelled like a cheeseburger! I even used ground venison instead of hamburger. My husband didn't say much...but then he thinks soup is "the most worthless meal there is." I thought it was delicious, nice and creamy and I loved the flavor. I just "eyeballed" the ketchup and mustard and might have not gotten those precisely right, but I would definitely eat this again! I served it with biscuits, but we didn't put it over them...I could see that tasting very good too. Thanks!

Oh, and a big plus for me is that there are not processed ingredients in this recipe! I quit using processed food some months ago so when I found a recipe called Cheeseburger Soup that sounded good, but called for canned soup I kept looking. So glad I found this!
Brown beef in a large pot over med.
Cook until the meat begins to brown, then add the onion, celery, carrot and garlic.
Saute about 10 minutes.
Stir in the broth and potatoes; bring to a boil.
Reduce heat and simmer 10-12 minutes, or until the potatoes are cooked through.
Melt butter in a saucepan over med. Whisk in flour and cook 1-2 minutes.
Whisk in milk, then add white sauce to the soup and bring to a boil.
Reduce heat to a simmer, and stir in the cheese, ketchup and mustard.
Season with salt and pepper.
Stir until cheese is melted.
Serve.