Kim M.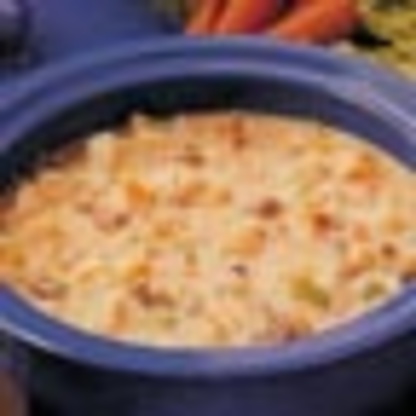 This is a great comfort soup that is a meal in itself. Even the kids will like it, just tell them the name of it. I like to serve it with some crusty bread and real butter. I found this in Taste of Home magazine.

This was very different than all of my other recipes (and very tasty). I omitted the onion, increased to carrot and celery to 1 cup each, added 4.5 cups of broth instead of 3 and increased the beef to 1 lb. Also I skipped all of the butter and salt.
In a 3-qt. saucepan, brown beef; drain and set aside.
In same saucepan saute onion, carrots, celery, basil and parsley in 1 tbsp butter until vegetables are tender, about 10 minutes.
Add broth, potatoes and beef; bring to a boil.
Reduce heat; cover and simmer for 10-12 minutes or until potatoes are tender.
Meanwhile, in a small skillet, melt remaining butter.
Add flour; cook and stir for 3-5 minutes or until bubbly.
Add to soup; bring to a boil. Cook and stir for 2 minutes.
Reduce heat to low. Add cheese, milk, salt and pepper; cook and stir until cheese melts.
Remove from heat; blend in sour cream.