flower7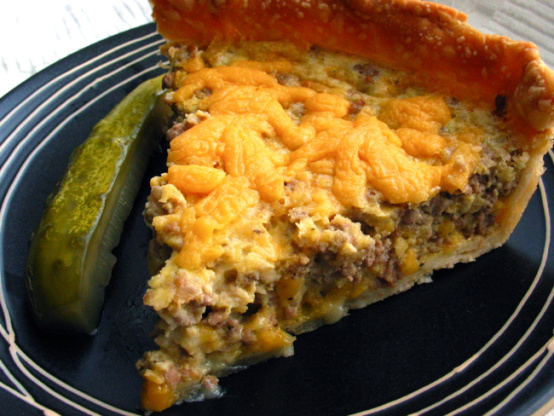 All of the other recipes here for Cheeseburger Quiche were low-carb, crustless versions, which was not what I was after, since I had a pie crust to use. After some googling, I found a few recipes which I combined to make this one. Serve with your favorite burger toppings if desired!

I have made this quiche two different times and it is very easy. Make sure you use sharp cheddar cheese because it really improves the taste. The second time I made it, I used medium cheddar and it was not as delicious as the first time.
Preheat the oven to 350°F.
In a skillet, brown ground beef and onion; drain and set aside.
In a bowl, beat the eggs, then whisk in the mayo, milk, flour, oregano, salt and pepper.
Stir in beef mixture and 1 cup cheese.
Pour mixture into pie shell.
Bake for 40-45 minutes until eggs are firm. Remove from oven and sprinkle with remaining cheese. Allow to stand for 5 minutes before cutting.