Boomette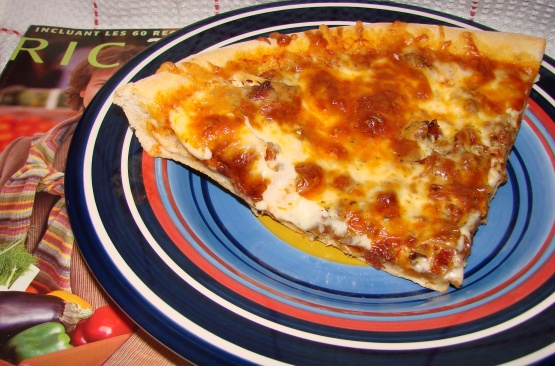 Another recipe from the morning news. I think this one belongs to the lady who stars in the show since there is no other credit for it. My kids LOVED this and next to me, they are the pickiest eaters ever. I used the Boboli thin style crust and colby cheese (our preference). ** As stated in reviews, this makes quite a bit for 1 crust. It would be best to use 2 crusts or half the recipe.

We have pizza every Sunday night in our family so I'm always looking for new things. This was great! Used my own homemade crust, A colby mix instead of the cheddar, and no parmesan cheese. I also only put pickles on half, because I wasn't sure which we'd all prefer. The final consensus was better with the pickles : ) Thanks for the recipe, will be using it again!!
In a skillet, cook beef,onion, garlic, salt, and pepper until meat is browned; drain and set aside.
Place crust on an ungreased 12-inch pizza pan.
Spread with pizza sauce.
Top with beef mixture, bacon, pickles, and cheeses.
Sprinkle with italian seasoning.
Bake at 450 degrees for 9-15 minutes or until cheese is melted.